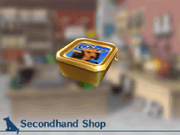 The Dog Food Can (DS)/Wet Food (3DS) is, as the name suggests, a can of dog food. A dachshund and the word "Cheer" are printed on the can in the DS version while in the 3DS version it has either a Labrador or a Golden Retriever with the words "Wet Food". In Nintendogs + Cats, too much wet food can make your dog gain weight, making it unsuccessful in competitions. However, it can be useful in helping Skinny or Underfed dogs gain weight. It sells for $1.20 at the Secondhand Shop in the DS version while it is $2 in the 3DS version. In Nintendogs + Cats, the player can choose what bowl the wet food is served in.
Description
Edit
DS: "This delicious food includes real meat to whet a dog's appetite. (One Serving)"
3DS: "Puppies love it, but watch the higher calorie content."