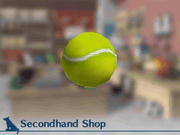 The Tennis Ball is a toy found on walks or can be bought from the shop. It is a yellow tennis ball that dogs use for playing fetch. It only comes in one color in the DS version while in the 3DS version it comes in three colors, one for each version.
There is a Light Blue Tennis Ball in the French Bulldog version, Pink-Contrast Tennis Ball for the Toy Poodle version, and a Yellow Tennis Ball for Golden Retriever version. It can be sold for $2 in the DS version and for $4 in the 3DS version.
People playing the North American French Bulldog and Golden Retriever versions were able to get the Pink-Contrast Tennis Ball via the Lyndon Johnson DLC. Both dogs and cats will play with a tennis ball.
Description
Edit
DS: "This toy is great for playing games of long-distance fetch."
3DS: "This toy is great for games of long-distance fetch."