Sunglasses are pairs of sunglasses that can be found on walks. They each have their own description. They can be found in the Accessories section of Supplies.
Descriptions
Edit
Sunglasses make every puppy and kitten very sleek. They are good keeping the bright sun out of your pet's eyes, and for looking cool.
Pair of Huge Sunglasses DS/Cop Sunglasses 3DS
Edit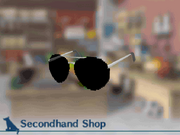 DS: "These huge retro lenses are back in style. They're for only the hippest of puppies."
3DS: "Dark shades for fighting crime and preforming motorbike stunts."
Pair of Sport Sunglasses DS/Sporty Sunglasses 3DS
Edit
DS
: "
These sporty, futuristic-looking glasses make their wearer look
mischievous."
3DS US: "These sporty sunglasses will up the coolness of your furry friend."
3DS UK: "With their sleek frame, these glasses are the epitome of cool."
Red Sunglasses
Edit
3DS: "These bright-red sunglasses are perfect for cute puppies and kittens."
White Sunglasses
Edit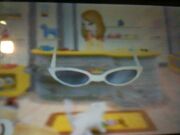 3DS: "These ultra-cool sunglasses give a certain tough-guy image."
Yellow Sunglasses
Edit
3DS: "Stand out from the crowd with these fancy yellow shades."
Black Film Star Shades
Edit
3DS: "Celebs and their pets pose for the paparazzi in these shades."
Brown Film Star Shades
Edit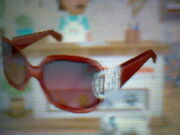 3DS: "Give your pets the awesome celebrity look with those shades."
Pink Flim Star Shades/Pink Movie-Star Shades
Edit
3DS: "These hot-pink shades look fab on divas of any ability."
Star Shades
Edit
DS: "These ultracool sunglasses are all the rage with celebs and their pampered pups."
3DS: "It takes a superstar to pull off these over-the-top shades"
Heart Shades
Edit
3DS: "Show your love with these super-cute heart shades"
Ad blocker interference detected!
Wikia is a free-to-use site that makes money from advertising. We have a modified experience for viewers using ad blockers

Wikia is not accessible if you've made further modifications. Remove the custom ad blocker rule(s) and the page will load as expected.