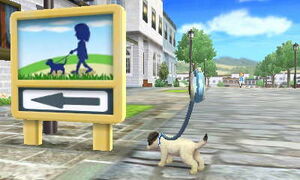 The Secret Path is a hidden route that can be visited during a Walk in Nintendogs + Cats. It is very rare, and can be found on all four routes. It is depicted as a regular route sign with a yellow border around it and can be found on the side of the route.
Information
Edit
The Secret Path is said to be very rare, and can be found occasionally on walks. The entrance of the hidden route is usually seen on the left in the Mountains, Downtown, and Neighbourhood while it is accessed from the right at the Seaside.
The presence of the area can sometimes be told if the player gets a message going by the likes of "Feel like dropping by someplace?" or "Your dog seems anxious" at the beginning of the walk.
On the route, many Present Boxes and traffic cones can be found, or more grass patches than usual if the Secret Path is taken from the Town or Mountain routes.