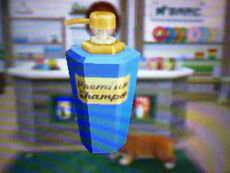 Premium Shampoo is a care item in Nintendogs + Cats. It is a shampoo in a blue bottle with a yellow cap and label on it. It can be bought for $6 at BARC once it is unlocked with 5,000 Owner Points. Like the normal shampoo, it can be used on both long and short-haired dogs and cats. It can clean a filthy dog or a cat faster than the ordinary shampoo.
For Obedience Trials the player can use this shampoo for its beauty when judges evaluate the performance and care of the dog.
Description
Edit
3DS: "This enriched shampoo leaves fur soft, shiny and squeaky clean."
Ad blocker interference detected!
Wikia is a free-to-use site that makes money from advertising. We have a modified experience for viewers using ad blockers

Wikia is not accessible if you've made further modifications. Remove the custom ad blocker rule(s) and the page will load as expected.