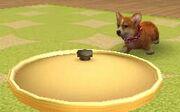 The Pot Lid is a Special Flying Disc that can be found on walks in Nintendogs + Cats, often in the Mountain route and Secret Path. It can also be received if the player gets enough steps on the Pedometer. Although it is a pot lid, it flies like an ordinary disc, except it can go further and higher than the basic discs.
Description
Edit
3DS: "This pot lid from the kitchen can be tossed like a flying disc."
Ad blocker interference detected!
Wikia is a free-to-use site that makes money from advertising. We have a modified experience for viewers using ad blockers

Wikia is not accessible if you've made further modifications. Remove the custom ad blocker rule(s) and the page will load as expected.