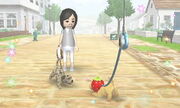 The Neighborhood or Town is the initial route that is usually started on while taking a walk in Nintendogs + Cats. It is basically neighborhood the player lives in, and along this route, you will come upon signs for the Mountain route, Downtown route, and sometimes a BARC shop. Other than that, there is not much in this route.
Materials you can find in this area
Edit
BARC in this area
Edit
Clerk: Sally
Some items are readily available, while others need to be unlocked after earning a certain amount of Owner Points or by playing a certain amount of days.
Icon
Item
Price
Prerequisites
Version
Classics 4: Csikos Post Record
$35
None
All
Windup Miss Chickie
Wind-Up Miss Chickie

EU/OC

$8
None
All
Windup Sir Nibbles
Wind-Up Sir Nibbles

EU/OC

$8
None
All
Windup Mr. Froggins
Wind-Up Mr. Froggins

EU/OC

$8
None
All
Beige Bucket Hat
$16
None
Toy Poodle & New Friends
White Bucket Hat
$16
None
Golden Retriever & New Friends
Black Bucket Hat
$16
None
French Bulldog & New Friends
Business Glasses
$20
None
All
RC Mario Kart
Mario Kart

EU/OC

$30
Obtain 5,400 Owner Points
Play for 20 days
All
RC Peach Kart
Peach Kart

EU/OC

$30
Obtain 5,400 Owner Points
Play for 20 days
All
RC Yoshi Kart
Yoshi Kart

EU/OC

$30
Obtain 5,400 Owner Points
Play for 20 days
All
Diamond Collar
$1500
Obtain 10,600 Owner Points
Play for 33 days
All
Platinum Collar
$1500
Obtain 10,600 Owner Points
Play for 33 days
All
Glitzy Collar
$1500
Obtain 10,600 Owner Points
Play for 33 days
All