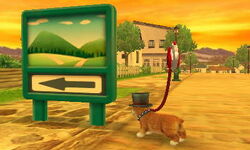 The Mountain Route is one of the side routes that the player can take while on a walk in Nintendogs + Cats. The route can be reached from the Neighborhood. Along this route, the player will come across signs for the Mountain park.
Materials you can find in this area
Edit
Clerk: Archie
Some items are readily available, while others need to be unlocked after earning a certain number of Owner Points or by playing a certain amount of days.
Ad blocker interference detected!
Wikia is a free-to-use site that makes money from advertising. We have a modified experience for viewers using ad blockers

Wikia is not accessible if you've made further modifications. Remove the custom ad blocker rule(s) and the page will load as expected.