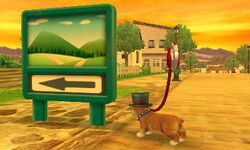 The Mountain Route is one of the side routes that the player can take while on a walk in Nintendogs + Cats. The route can be reached from the Neighborhood. Along this route, the player will come across signs for the Mountain park.
Materials you can find in this area
Edit
Clerk: Archie
Some items are readily available, while others need to be unlocked after earning a certain number of Owner Points or by playing a certain amount of days.
Icon
Item
Price
Prerequisites
Version
Classics 3: Maple Leaf Rag Record
$30
None
All
Camo Collar
$13
None
All
Red Japanese-Print Collar
Red Japanese Print Collar

EU/OC

$18
None
Toy Poodle & New Friends
Green Japanese-Print Collar
Green Japanese Print Collar

EU/OC

$18
None
Golden Retriever & New Friends
Blue Japanese-Print Collar
Blue Japanese Print Collar

EU/OC

$18
None
French Bulldog & New Friends
Feathered Green Hat
$32
None
All
Feathered Purple Hat
$32
None
All
Pointy Hat
$32
None
All
Fringed Leather Collar
$45
Obtain 5,400 Owner Points
Play for 20 days
All
Brown Safari Hat
$50
Obtain 5,400 Owner Points
Play for 20 days
All
White Safari Hat
$50
Obtain 5,400 Owner Points
Play for 20 days
All
Gold Bar
$9999
Obtain 10,600 Owner Points
Play for 33 days
All
Chef's Scarf
$27
Obtain 10,600 Owner Points
Play for 33 days
All
Chef's Hat
$28
Obtain 10,600 Owner Points
Play for 33 days
All