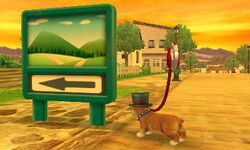 The Mountain Route is one of the paths that the player can visit, during a Walk in Nintendogs + Cats. It can be reached from the Neighborhood by approaching the sign that leads to the area.
Along this route, the Park and the Pet Supply store can be found.
Materials
Edit
Icon
Item
Selling Price
Rarity
Wooden Stick
N/A
Common
Metal Bolt
N/A
Uncommon
Stardust
N/A
Uncommon

*
Pet Supply
Edit
Clerk: Archie Some items are readily available, while others need to be unlocked after earning a certain number of Owner Points or by playing a certain amount of days.
Icon
Item
Price
Prerequisites
Version
Classics 3: Maple Leaf Rag Record
$30
None
All
Camo Collar
$13
None
All
Red Japanese-Print Collar
Red Japanese Print Collar

EU/OC

$18
None
Toy Poodle & New Friends
Green Japanese-Print Collar
Green Japanese Print Collar

EU/OC

$18
None
Golden Retriever & New Friends
Blue Japanese-Print Collar
Blue Japanese Print Collar

EU/OC

$18
None
French Bulldog & New Friends
Feathered Green Hat
$32
None
All
Feathered Purple Hat
$32
None
All
Pointy Hat
$32
None
All
Fringed Leather Collar
$45
Obtain 5,400 Owner Points
Play for 20 days
All
Brown Safari Hat
$50
Obtain 5,400 Owner Points
Play for 20 days
All
White Safari Hat
$50
Obtain 5,400 Owner Points
Play for 20 days
All
Gold Bar
$9999
Obtain 10,600 Owner Points
Play for 33 days
All
Chef's Scarf
$27
Obtain 10,600 Owner Points
Play for 33 days
All
Chef's Hat
$28
Obtain 10,600 Owner Points
Play for 33 days
All