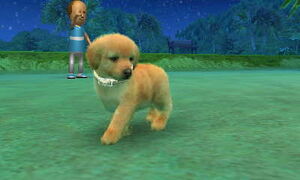 Liberty is a female Golden Retriever owned by President Ford who can be met via Spotpass DLC in all Nintendogs + Cats versions.
Liberty is skinny, even though in real pictures of her she appears fit.
Liberty is constantly whimpering with a sad expression, it is unclear why.
She is friendly towards most dogs that are friendly towards her as well.
Liberty's bark is extremely high pitched.
Ad blocker interference detected!
Wikia is a free-to-use site that makes money from advertising. We have a modified experience for viewers using ad blockers

Wikia is not accessible if you've made further modifications. Remove the custom ad blocker rule(s) and the page will load as expected.