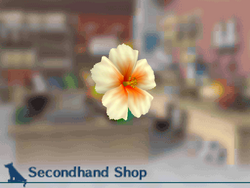 The Hibiscus Flower is a flower that dogs can wear. It can be found on walks in both DS and 3DS Nintendogs games. The DS Hibiscus can only be found in a creamy peach color with an orange tint inside, while the 3DS version has both red (pink) and white (similar to the DS white.) In the 3DS version, the Hibiscus Flower can be bought from Coletta or found on any walk route.
Description
Edit
DS: "The perfect flower for giving you and your puppy a tropical air."
3DS White: "With this flower on, it's always a day at the beach."
3DS Red: "Put this flower on and you can almost feel the tropical breeze..."
Ad blocker interference detected!
Wikia is a free-to-use site that makes money from advertising. We have a modified experience for viewers using ad blockers

Wikia is not accessible if you've made further modifications. Remove the custom ad blocker rule(s) and the page will load as expected.