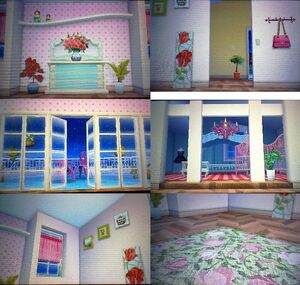 The Fairy Tale style home is a home remodel style in Modo Home in Nintendogs + Cats, which costs $1,000 ($0 in Toy Poodle). This home has wood flooring in a zig-zagging pattern, white walls, and a flowery rug. It appears to be at least two stories tall, with a balcony visible through window-pane doors in the back of the room.
A small bedroom can be seen behind two pillars on one side of the room, and the front door is somewhat visible through an opening on another side of the room.
When a kitten goes out to find a present, it may go out onto the balcony through the window-pane doors.
Description
Edit
3DS (USA): "Decorated with plenty of pink, this is the perfect room for a fairy-tale princess."
3DS (PAL): "Decorated in pretty pink and flowers, this is the perfect room for a fairy-tale princess."
Unlocking
Edit
This home does not need to be unlocked. It is already readily available in all three versions.
The Princess Bed and the Dresser from GracieGrace and the purple dress from Nookington's appeared from Animal Crossing City Folk/Let's go to the City.
Ad blocker interference detected!
Wikia is a free-to-use site that makes money from advertising. We have a modified experience for viewers using ad blockers

Wikia is not accessible if you've made further modifications. Remove the custom ad blocker rule(s) and the page will load as expected.