Ellie (Japenese: ) also known as called Anita in the PAL Version, is a character from Nintendogs + Cats. She works at Café Petrov and owns a cat named Precious, who wears a different accessory every time the player visits. Ellie's greeting is followed by a menu of treats you can buy for your dog, along with a drink for the player. After buying, the player has access to the Café room.
As shown, Ellie appears as a young adult.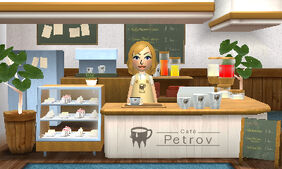 Ad blocker interference detected!
Wikia is a free-to-use site that makes money from advertising. We have a modified experience for viewers using ad blockers

Wikia is not accessible if you've made further modifications. Remove the custom ad blocker rule(s) and the page will load as expected.