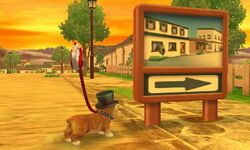 The Downtown Route is one of the paths that the player can visit, during a Walk in Nintendogs + Cats. It can be reached from the Neighborhood by approaching the sign that leads to the area.
This route seems to have the most places that are accessible to the player, such as the café, Pet Supply, gym and the path leading to the Seaside Route.
Materials
Edit
BARC in this area
Edit
Clerk: Raymond
Some items are readily available, while others need to be unlocked after earning a certain amount of Owner Points or by playing a certain amount of days.