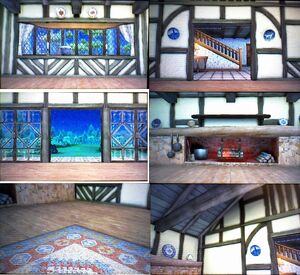 The Country Home (Japanese: カントリースタイル, Country Style) house is a home remodel style from Modo Home in Nintendogs + Cats. In Golden Retriever & New Friends, it is available at the beginning while in other versions, it can be unlocked with Owner Points. It costs $1,500.
This home has wood flooring, cream walls with wood panel designs on it, and a multi-color rug. It has a bay window that kittens are able to jump onto.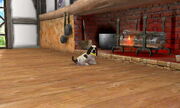 It appears to be a two-story house with a lush backyard and a view of a forest beyond a white picket fence visible through an open space between wood-and-glass doors. The stairs that lead to the second floor are visible through an open arch on one side of the room.
When a kitten goes out to find a present, it may go out into the backyard through the wood-and-glass doors, or into the rest of the house.
Description
Edit
"With its rustic fireplace, this room offers a taste of a leisurely country lifestyle."
How to Obtain
Edit
Version
Toy Poodle & New Friends
Obtain 10,200 Owner Points
Play for 32 days
Golden Retriever & New Friends
Default interior style
French Bulldog & New Friends
Obtain 11,400 Owner Points
Play for 35 days
In Super Smash Bros. for Nintendo 3DSEdit
The Country Home is used as a setting for the Nintendogs stage in the said game.
Ad blocker interference detected!
Wikia is a free-to-use site that makes money from advertising. We have a modified experience for viewers using ad blockers

Wikia is not accessible if you've made further modifications. Remove the custom ad blocker rule(s) and the page will load as expected.