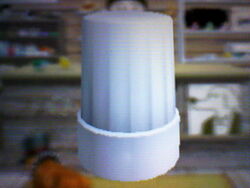 The Chef's Hat is a hat accessory item in Nintendogs + Cats that can be bought from the Mountains BARC for $28 once it has been unlocked with 10,600 Owner Points or by playing for 33 days. It goes with the Chef's Scarf item found in the same shop.
Description
Edit
3DS (NTSC): "This tall hat is favored by gourmet chefs the world over."
3DS (PAL): "This tall hat, favored by the top chefs, will suit all keen cooks."
Ad blocker interference detected!
Wikia is a free-to-use site that makes money from advertising. We have a modified experience for viewers using ad blockers

Wikia is not accessible if you've made further modifications. Remove the custom ad blocker rule(s) and the page will load as expected.