The Championship (Nintendogs Cup in the 3DS sequel) is the last level of each contest in Nintendogs. If the player places in a Championship, their dog will be able to enter the Championship next time.
First Place Prizes (Nintendogs)
Edit
If the player gets first place in the Championship more than two times, a banner will appear under the dog's achievements stating how many times your dog has won Gold Medals for it. It can go up to a maximum of a 99+ winning streak. If the player's dog doesn't get first the banner and streak will disappear. If a dog doesn't place, just like any other contest level, the dog will be brought down a level.
First Place Prizes (Nintendogs + Cats)
Edit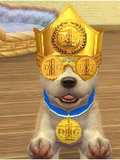 In
Nintendogs + Cats
, winning the Nintendogs Cup will earn the player
$500 and the following victory items for the dog (depending on the competition.)
The player can only earn each victory item once for each dog. Also, they can not get a winning streak in Nintendogs + Cats. If the player's dog comes in second or third place in the Nintendogs Cup, it will not be brought down a level because the player can now choose any cup that they have unlocked, unlike Nintendogs.
Even though many neighbors comment that Agility Trials are the hardest contests, the player will receive more if they place first in the Obedience Trial Championship than Agility Trial Championship.