Casey
is a
Shih Tzu
found on walks in
Nintendogs: Dachshund & Friends
and
Nintendogs: Labrador & Friends
. She is owned by Morgan.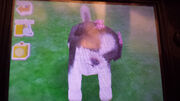 Casey is a Black and White Shih Tzu wearing a
Checked Ribbon
. She is extremely mean and will usually fight the player's dog, resulting in a decrease of Trainer Points. The best thing to do when encountering Casey is to not jerk your dog's leash so the dogs will get along. Casey is the type of dog that does not bring toys back. Unusually, Casey will sometimes make friends with dogs.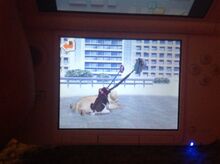 Morgan's personality seems to be almost the same as Casey's: she's sarcastic, mean, and always kind of helpful, as she often gives out advice rather than having time to talk. On rare occasions, if she entered Casey in a contest that the trainer entered in, she will say that she was there, too.
Ad blocker interference detected!
Wikia is a free-to-use site that makes money from advertising. We have a modified experience for viewers using ad blockers

Wikia is not accessible if you've made further modifications. Remove the custom ad blocker rule(s) and the page will load as expected.