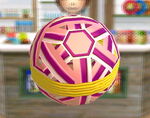 The Bell Ball is a cat toy that is introduced in Nintendogs + Cats. It is a ball made up of thick strips that are striped in three shades of pink, with a thick yellow strip around the middle. Inside of the ball is a bell that makes jingling sounds. The Bell Ball can be bought in the BARC shop for $80 in all versions. Dogs show a little interest in this, even though it is made for cats. Cats will push it around, but get bored eventually.
Description
Edit
3DS: "The bell inside this ball jingles as it rolls. Cats love it."
Ad blocker interference detected!
Wikia is a free-to-use site that makes money from advertising. We have a modified experience for viewers using ad blockers

Wikia is not accessible if you've made further modifications. Remove the custom ad blocker rule(s) and the page will load as expected.