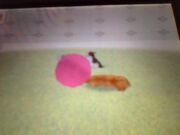 The balloon is an item in Nintendogs and Nintendogs + Cats. Balloons come in three colors: red, yellow, and blue. A balloon can be inflated by blowing into the DS/3DS mic. It will pop if the player blows it too big, or if one of the player's dogs pops it. Balloons can be purchased at the Discount Store for $0.20 in the DS version.
It is much easier to get in the 3DS version, only appearing in the shopping menu BARC Store for $2. In the 3DS version, they're already slightly inflated, but if you blow into the mic, the balloon will become larger. To keep it the size that you blow it up to be, let it go when it reaches the size that you want, otherwise the air will escape.
The balloon can be sold for $0.10 in Nintendogs, or $1 in the 3DS Version
Ad blocker interference detected!
Wikia is a free-to-use site that makes money from advertising. We have a modified experience for viewers using ad blockers

Wikia is not accessible if you've made further modifications. Remove the custom ad blocker rule(s) and the page will load as expected.