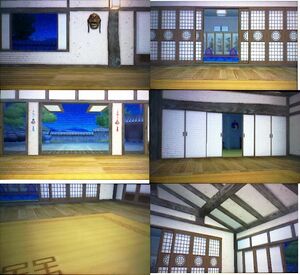 The Asian Style home is a home remodel style in Modo Home in Nintendogs + Cats, which costs $1,000 ($0 in French Bulldog). This home has wood flooring, cream walls lined with dark wood, and a yellow rug with a gold pattern in the middle and as a border. It appears to be a one-story house with a traditional Asian-style yard visible through the sliding rice-paper doors in the back of the room.
When a kitten goes out to find a present, it may go out into the yard through the rice-paper doors at the back of the room.
Description
Edit
3DS: "This elegant Asian-style room creates an exotic atmosphere."
Unlocking
Edit
The Asian Style home is readily available in all three versions.
Ad blocker interference detected!
Wikia is a free-to-use site that makes money from advertising. We have a modified experience for viewers using ad blockers

Wikia is not accessible if you've made further modifications. Remove the custom ad blocker rule(s) and the page will load as expected.