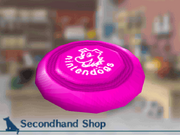 An Aerodisc is a Flying Disc much like a Sponsor Disc - a dog's head with a spiked collar is engraved on it. There is no longer recursion, and it has "Nintendogs" engraved below the dog. There are two of these to collect, and they are found on Walks.
Description
Edit
DS: "This toy is great for play in wide-open areas. Aerodiscs come in two colors."
Aerodiscs
Edit
Sponsor Discs and Aerodiscs are very similar, both sponsoring Nintendogs and having the same inward outline.
Aerodiscs are the only discs with a color not duplicated by another Flying Disc.